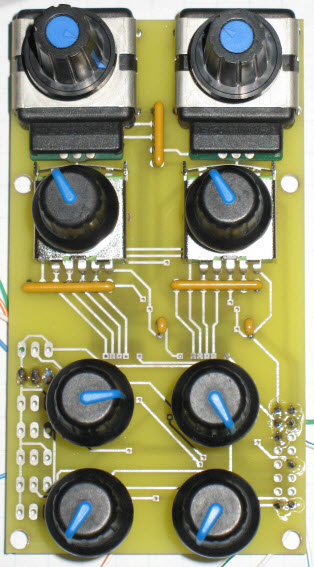 Glorious Knobs!
The front panel PCB prototype came in two weeks ago, and so far has passed all its tests. The tune controls are endless encoders with 144 positions per revolution. They are smooth like butter. The idea is to have the fine/coarse tune controls each in one single knob. Turning the knob slowly takes 20+ full spins to cover the entire pitch range. Turning it quickly drops the number of spins into single digits.
Below the tune controls are the wave select switches. The POKEY has several varieties of noise based on different LFSR arrangements. Since terms like "17-N" and "4-5-N" don't mean much it was time to start on icons for the panel graphics.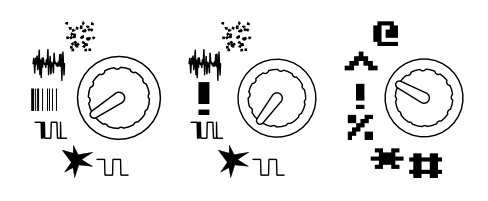 The Design Iterations
Few things are more subjective than creating icons for different types of Atari noise. After painstakingly creating a vector graphic for each type, I decided to pitch it all and go with text symbols in the Atari computer font. It keeps the Atari theme going and requires less detail to print/etch. The symbols are pretty nondescript, with the exception of the bottom being closest to the "square" wave it represents.