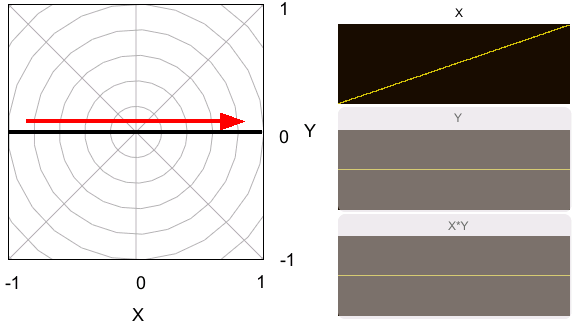 Click the image to see a video
The video is to show proof-of-concept for a two-dimensional drawing method of oscillator waveforms.
How does it work?
A pattern is drawn into the window and becomes a "trace." The oscillator is formed by re-tracing the mouse movements periodically at an audio rate. Since the final audio output can only be one-dimensional, it is taken from the projections onto the x and y axes. These projections are displayed, in addition to basic operations with them.
The example picture shows a straight line drawn from left to right. As this is traced, the x projection (ie the horizontal position) increases from -1 to 1.  The process then jumps back to the beginning and repeats ad nauseum, creating a sawtooth wave in the x projection.
This method of sound generation allows two dimensional graphics functions, such as image rotation, to create novel filtering and processing.
UPDATE: Check here for a standalone application version (Windows only right now)
Another UPDATE: Check here for the Max/MSP files